Your patio can be the perfect place to host a party or enjoy some quiet time outdoors. If you spend a lot of time on the patio in the spring and summer, you might be thinking of upgrading the space. Turning your patio into a cozy, comfortable environment will make it even more inviting and enjoyable for you and your guests.
There are a wide variety of ways you can improve your patio's style. You can invest as much or as little time, money, and energy as you want. What's most important is that you find the style that resonates the most with you.
Here are 10 suggestions for freshening up your patio for the warm weather: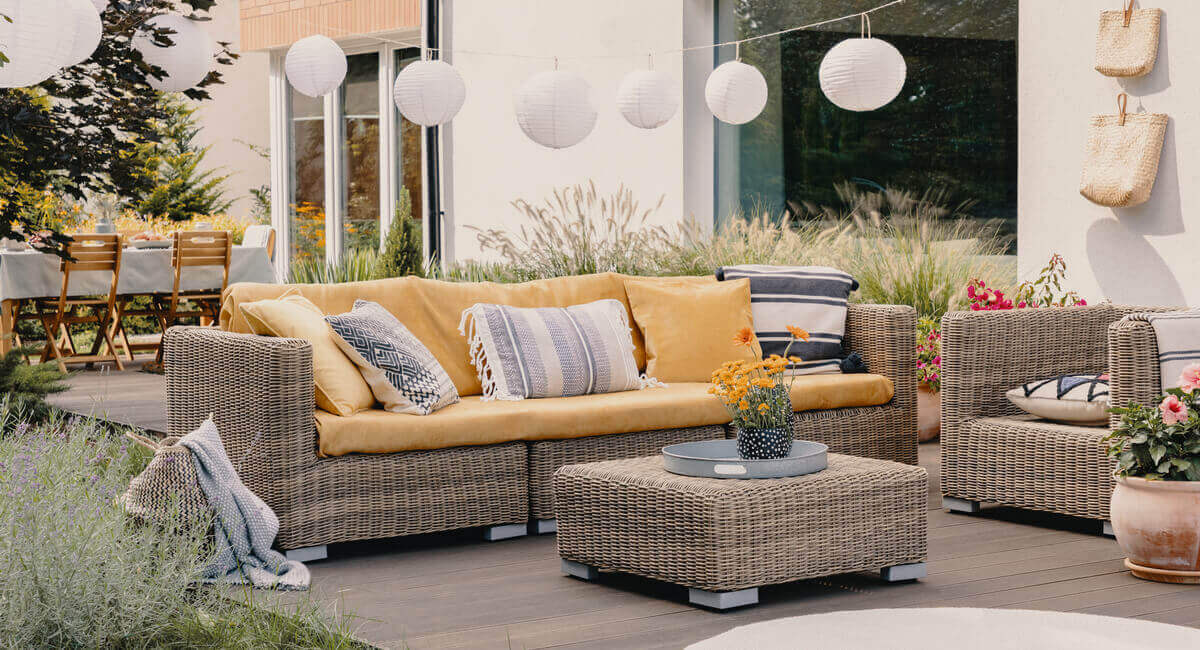 1. String Lights and Lanterns
Adding some unique and cozy lighting can completely transform any space. Your patio probably gets plenty of natural light during the day, but installing extra lighting allows you to enjoy the space at night as well. String lights and lanterns are useful and they create a beautiful aesthetic.
You can hang string lights from the furniture, trees, railings, or walls. Hanging lanterns can help to create a rustic atmosphere, especially with flickering battery-operated candles inside. You could place lanterns on tables, too.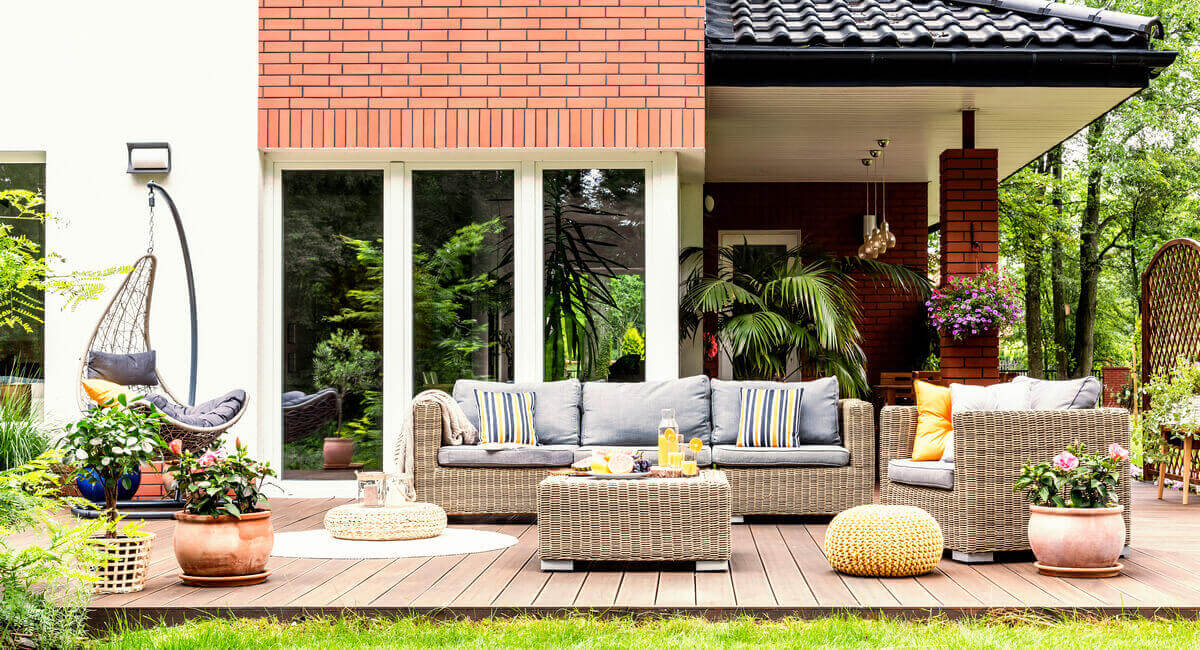 2. Planters and Hanging Baskets
If you want to embrace a lush, green style, plants are the perfect addition to your patio. Consider placing planters along a railing or hanging flower baskets from an awning. Flowers that match the patio's color scheme will create the most cohesive style.
A herb garden can also be an interesting and useful fixture on the patio. Research which herbs grow well in your climate and plant a variety in pots or planter boxes. The aroma from the herb garden is refreshing and you can use the herbs to make fresh recipes.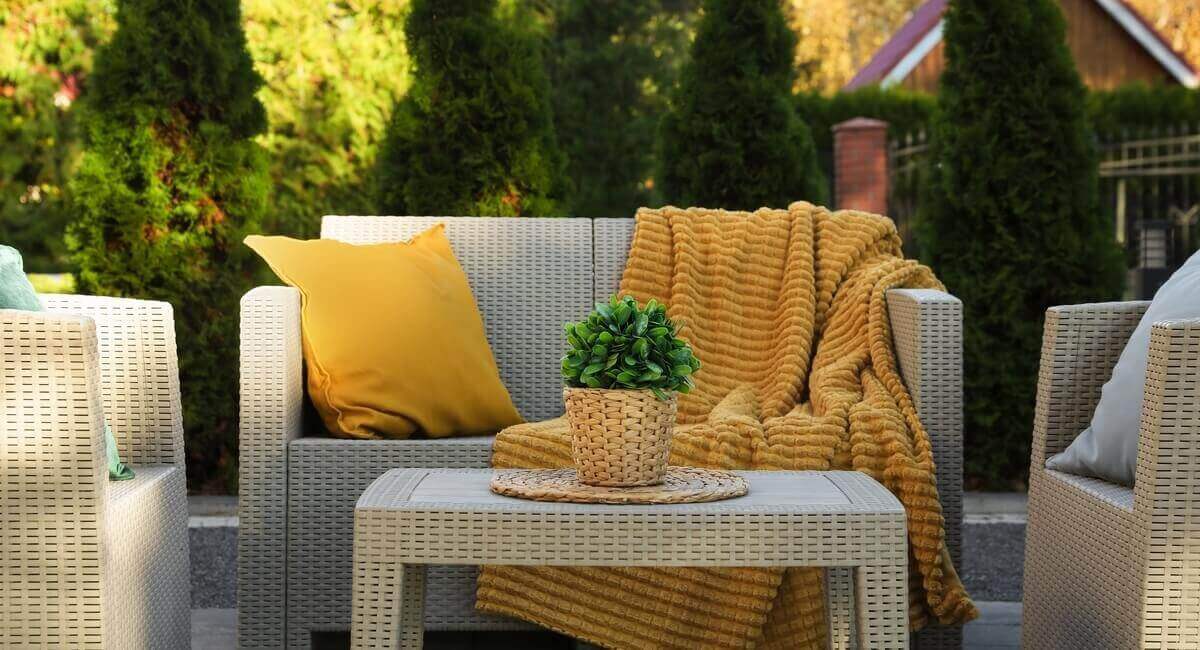 3. Textiles
Textiles like pillows, throw blankets, and cushions are an excellent way to add personality to your patio. You can customize your existing furniture by purchasing new textiles or reupholstering the existing pillows and cushions. Thrifting is also a great budget-friendly option.
It's important to consider function as well as style when looking for textiles. To make your patio as cozy and inviting as possible, opt for cushions and blankets that are soft and comfortable. It's best to shop for weather-resistant items. Otherwise, you'll have to bring everything inside whenever it rains.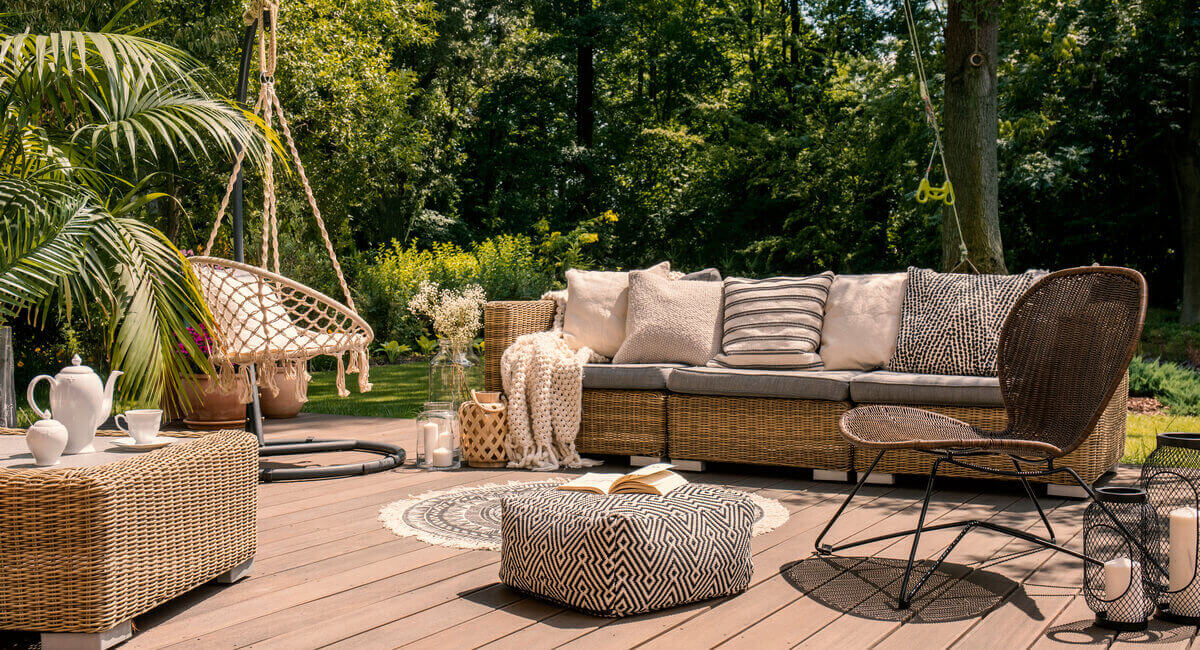 4. Outdoor Rugs
If your patio feels cluttered or chaotic, an area rug may be exactly what you need to create a more cohesive space. It's also an opportunity to add more color or an interesting pattern to the patio.
Keeping outdoor rugs clean and dry can be a challenge. You may have to vacuum or shake out the rug regularly or, depending on the material, bring it inside during the rain. Look for water-resistant outdoor rugs to reduce the risk of damage.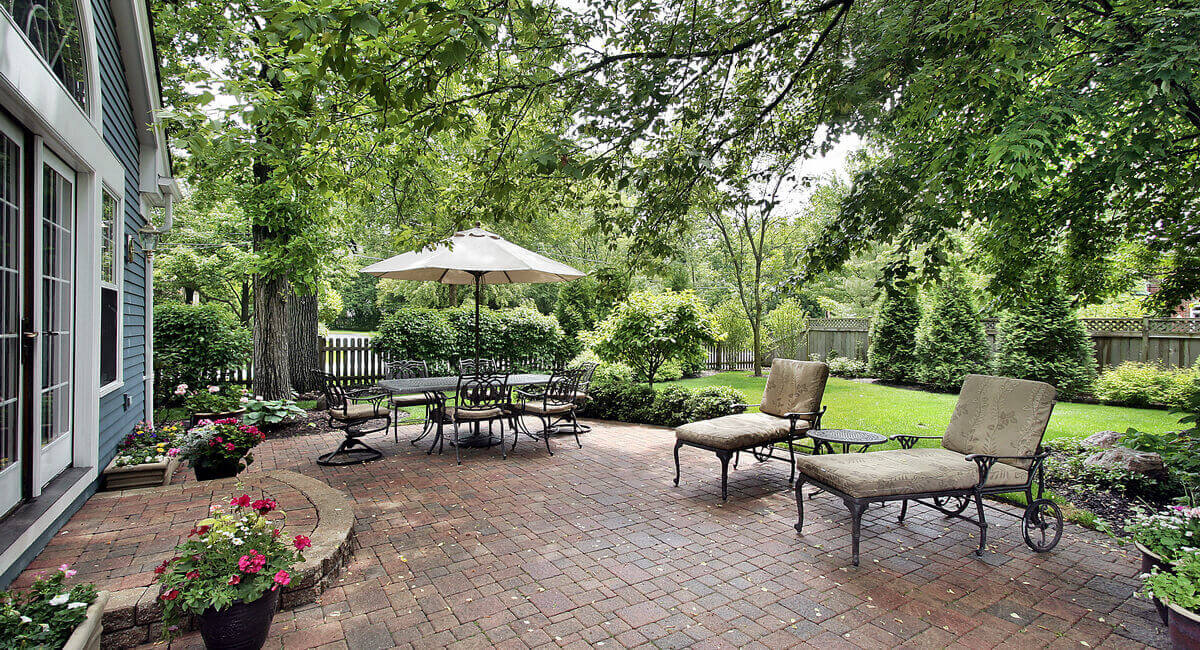 5. Awning or Umbrella
Shade is absolutely essential for any sunny patio. If your patio doesn't get shade from your home or the surrounding trees, you can create shade with an awning, pergola, or umbrella. You can also incorporate these structures into your patio's style. If you have string lights or lanterns, hang them from the awning. If you want the patio to look lush and green, thread vines through the pergola.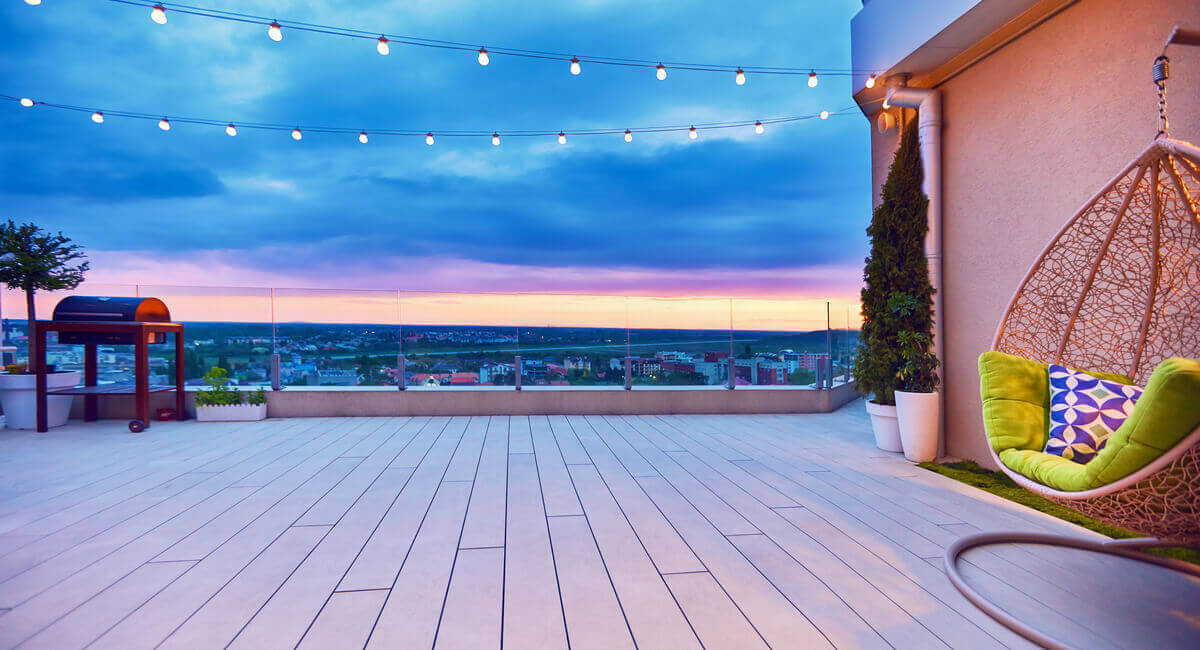 6. Hammocks and Hanging Chairs
Seating is one of the most important yet overlooked elements of practical patio design. Many homeowners think that stiff deck chairs or couches are the only options.
A hammock is an incredibly cozy fixture that can be especially enjoyable if you like relaxing on the patio by yourself. Hanging chairs are also a fun seating option if you plan on hosting parties or gatherings. You could even hang the chairs from the pergola or a sturdy tree that overlooks the patio, which saves you from having to purchase a stand.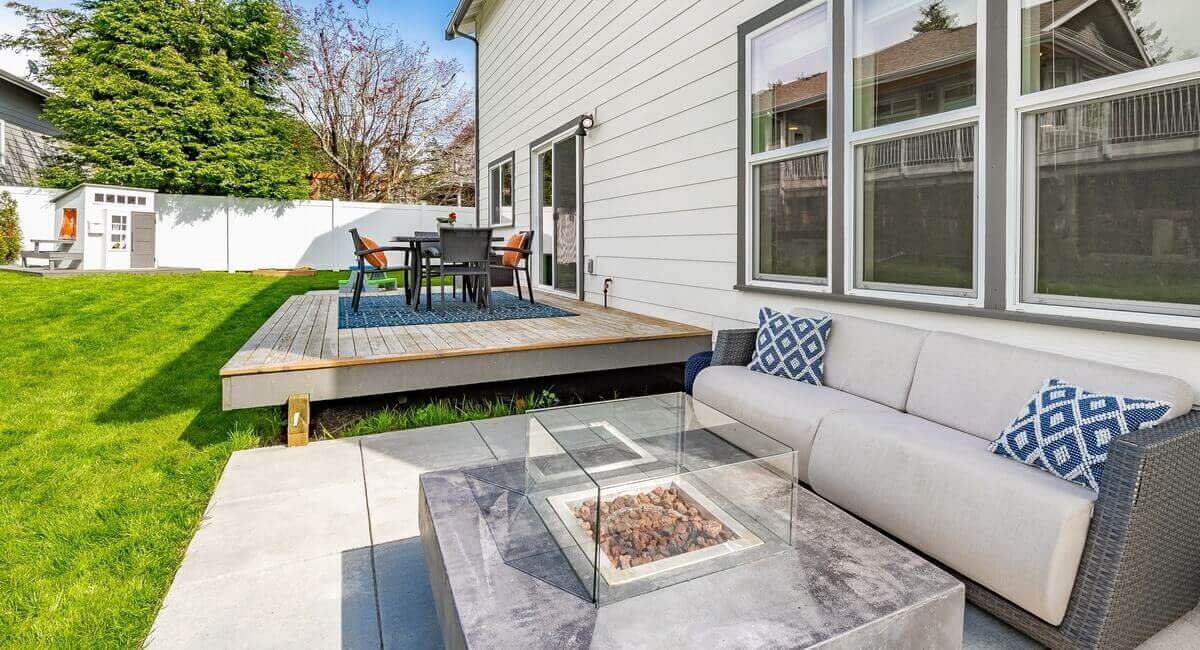 7. Dining Table
A full-sized dining table is a bold style choice for a patio, but it can be a striking central fixture. If you envision your family enjoying meals together or hosting dinner parties on the patio, a dining table is essential. Instead of everyone scattering across the space, bring them all together at the table. A large table also provides plenty of surface space for lights, plants, or other centerpieces.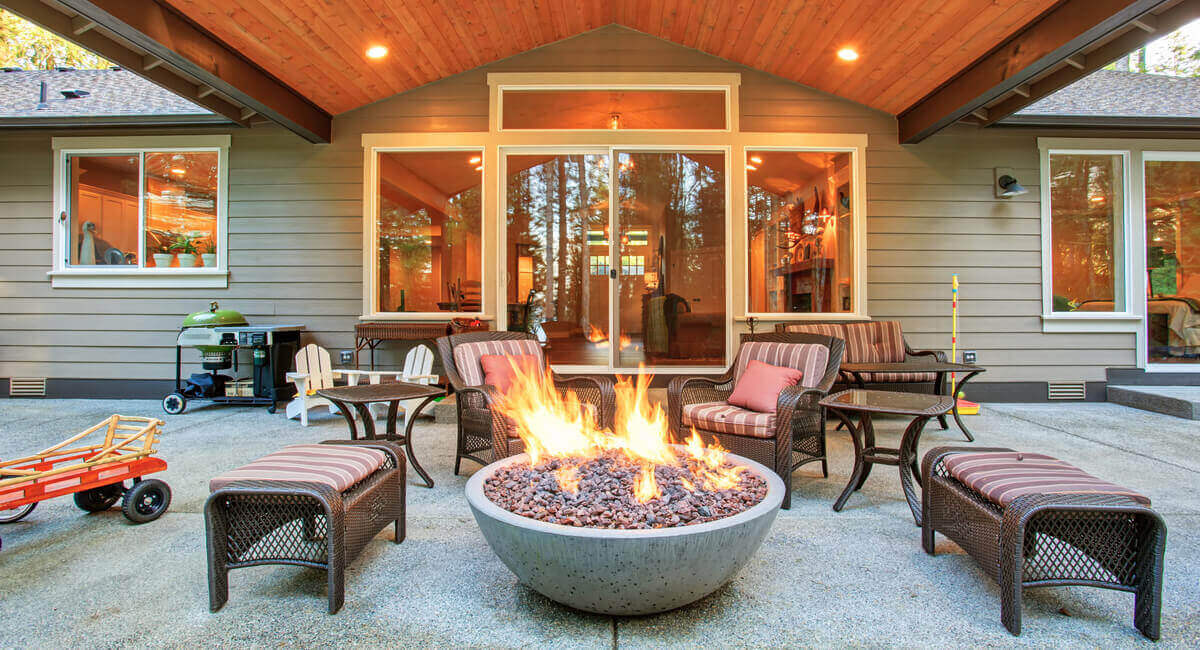 8. Fire Pit
A fire pit may not be the right choice for every home. It needs to be at least 10 feet away from your home, trees, and all other structures, so often won't fit on smaller patios. Your municipality may set additional regulations or require you to obtain a permit. If you're sure that you can safely and legally install one, a fire pit can be a fantastic addition to your outdoor space.
You could hire a landscaper to build the fire pit or build it yourself. There are a wide variety of bricks or stones to choose from, so you can look for the materials that best reflect your design preferences.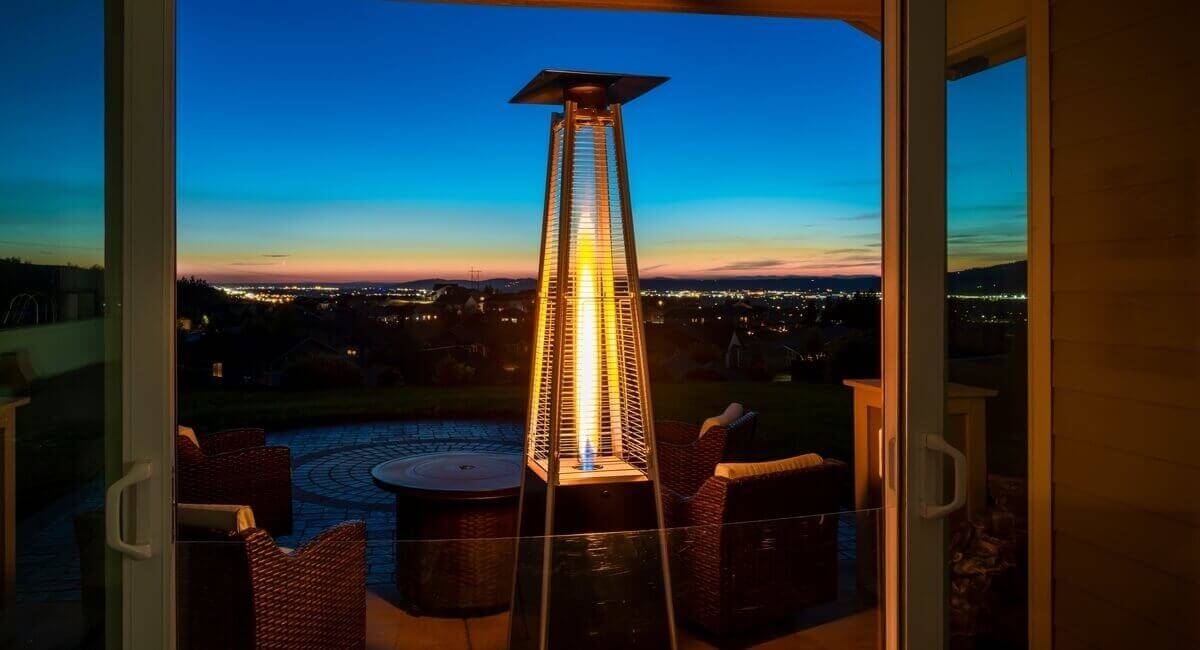 9. Heaters
If you plan to spend a lot of time outdoors in the evening or early morning, heaters can make your patio much more comfortable. Heaters also allow you to enjoy your patio later in the fall and earlier in the spring. Heater options range from natural gas to propane or electric.
Keep in mind that patio heaters tend to be more effective in covered spaces than in uncovered spaces. You can still install a heater if you have an uncovered patio, but it may heat the space less efficiently and cost more to operate.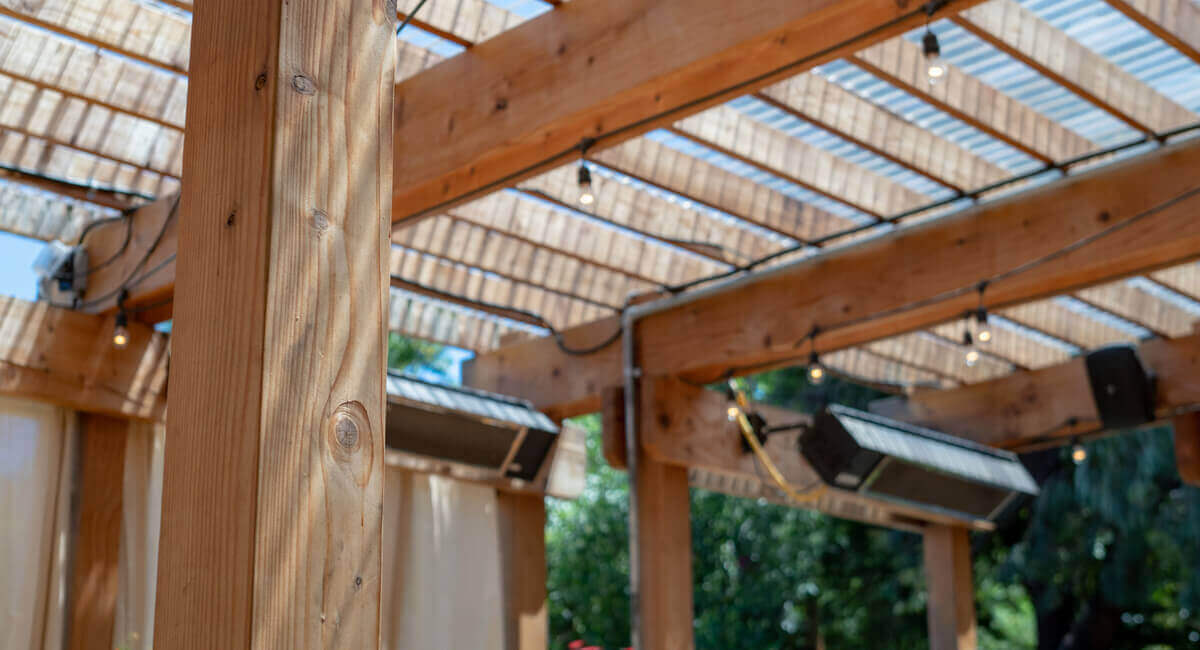 10. Outdoor Speakers
Speakers can turn an otherwise boring patio into a vibrant and exciting gathering space. If you plan on hosting outdoor parties this summer, wireless speakers are essential. Simply place the speakers on a table, or you could attach them to the awning or pergola. You can even purchase speakers that look like rocks, tiki torches, or other elements of your design or landscaping.
It's important to be mindful of your neighbors when playing music outdoors. If possible, angle the speakers so that they're facing toward your home and away from the surrounding homes.
Your options for patio design are practically limitless. You could create a quiet and peaceful atmosphere or a lively and vibrant party space. Just a few simple changes can completely transform your patio and you don't have to break the bank to achieve the style you want.